Boss SP-1 (Made in Japan) Parametric EQ Pedal, Phase Sweeper, Mid Booster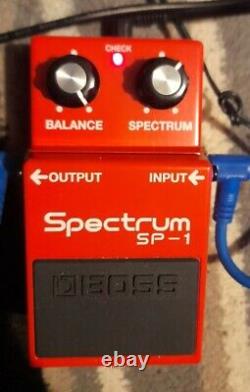 Boss SP-1 (Made in Japan) Parametric EQ Pedal, Phase Sweeper, Mid Booster. The BOSS SP-1 Spectrum is one of the most unique pedals of all time. A big part of this comes from it's 70's vintage circuit - it is the definition of an analogue pedal. With an overdrive before it, the high mids boost can be anything from clear, concise and producer friendly to extremely rocky, drilly, a "digging" sort of sound. This was with an SD-1 Overdrive and a Yamaha Bass Guitar.
When you sweep the Spectrum knob (targeted frequency) you hear a wah-wah, phaser like effect. As you can imagine, with modulation before or after the pedal, the feedback gets extremely interesting and Jimi Hendrix like. You can really harmonize with the pedal in your playing.
It is not the same pedal with any different setup. Tremolos before the unit are also extremely interesting and help the mids be tamed from feedbacking too hard. BARE IN MIND; this extreme feedback setting was with the Balance EQ AMOUNT! And I had flangers before and after the pedal.
So this is what I mean - the boss SP-1 is one of the most reactive pedals you can get. It is well worth the price, and is especially designed for virtuosos and guitar geniuses!
I love using mine on my Bass Guitar personally. The Boss SP-1 can target nearly all Solfeggio Frequencies for a specific focal boost. These are very old and known frequencies with supernatural powers regarding pain relief (174 Hz), muscle regeneration (285 Hz), Removing Negativity (396 Hz), Boosting Positivity (417 Hz), Miracle Frequency (528 Hz), Attracting Love (639 Hz), Removing Toxins (741 Hz), Intuition (852 Hz), and the so-called "God Frequency" (963 Hz). This might be the reason this pedal is so famous to be honest after playing with it on my bass guitar for a long time. The SP-1 is a parametric equalizer with one frequency band only. The spectrum knob sets the frequency range in the interval 500Hz to 5kHz. The balance knob sets the peak within the range.
The SP-1 was more popular with keyboard players than with guitar players. Today it is one of the most sought after collectors items and a mint condition SP-1 doesn't come cheap.
I have photographed my favourite setting on a Bass Guitar - when paired with overdrive. The BALANCE knob gets extreme, and the phaser-like effect of the SPECTRUM knob becomes a lot more ovbious when the BALANCE is turned high. Think of it as an EQ that shifts phase in an extremely analogue-like way. It is a tube screamer, EQ, modulation all in one!
You just have to make use of the extremely simple 2 knobs in creative ways to invent new effects! This pedal is definitely sought after for a reason. This item is in the category "Musical Instruments & DJ Equipment\Guitars & Basses\Parts & Accessories\Effects Pedals\Other Guitar Effects Pedals". The seller is "mitcbel_49" and is located in this country: GB.
This item can be shipped to United Kingdom.
Brand: Boss
Type: Equalizer
Unit Type: Unit
Custom Bundle: No
Analogue/Digital: Analogue
Country/Region of Manufacture: Japan
Unit Quantity: 1
To Fit: Acoustic Electric Guitar, Bass Guitar, Electric Guitar