Epiphone 1963 Caballero FT30 USA Gibson Kalamazoo Factory Made Acoustic Guitar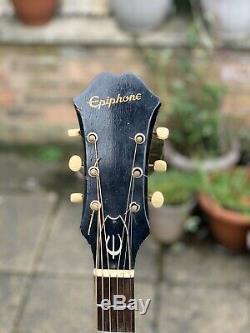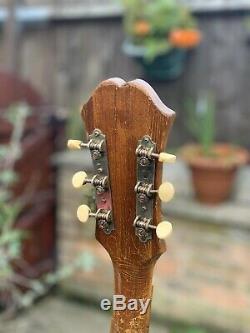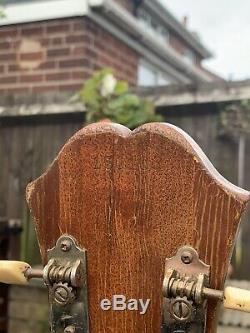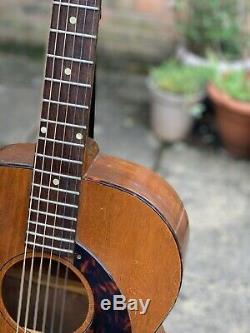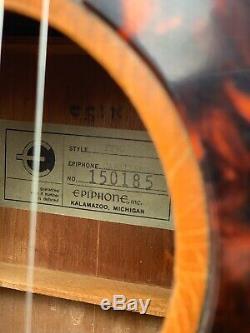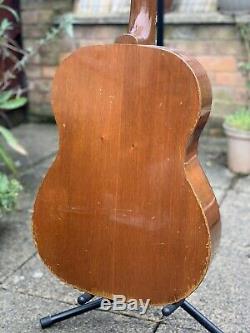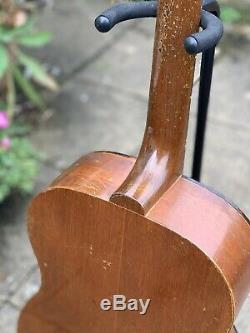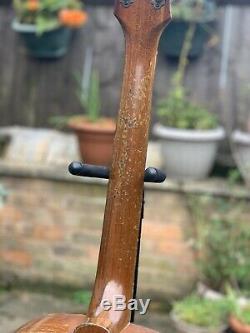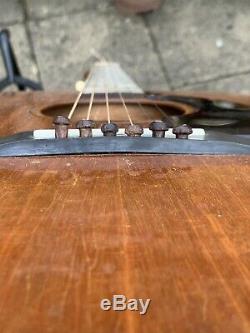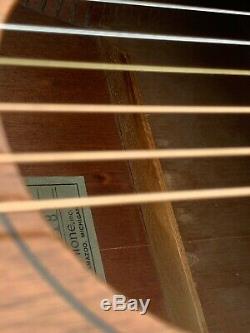 Here we have for sale a fantastic USA made 60s acoustic - the Epiphone Caballero FT30. This guitar was made at a time when Epiphone had been acquired by Gibson, and production of Epiphone models had been moved from New York to Gibsons very own plant in Kalamazoo, Michigan.
The FT30 Caballero model is a particularly interesting guitar from Epiphones production history, as it was built side by side with Gibsons LG0 small bodied acoustics during this period in the same factory using the exact same parts. This guitars serial number puts it as being constructed in 1963, and as denoted by the label, was made in the very same factory in Kalamazoo, Michigan USA. It is all-mahogany in construction with delicate tortoiseshell binding to the top and a matching screw on pickguard (as opposed to the conventional glued-on guards generally used). As you can see, this is very much a players guitar that has been loved, used and played significantly throughout its 56 year history.
Condition wise, there is significant lacquer checking to the top, back, neck and just about everywhere on the guitar. There is lacquer checking consistently across where the top meets the binding (likely from slight environmental wood shrinkage throughout the years), but it is solid and unaffected structurally.
Testament to this instruments rock-solid 60s USA build quality, there are no discernible cracks or splits to the wood itself. There are heavy scratches and scrapes to the bodys front, back, sides and neck but nothing that compromised the structural integrity of the body. While the neck has been thoroughly played, there are no visible signs of a neck repair, nor is there any evidence of a neck reset. The guitar has been played and enjoyed for half a century, though despite this it has remained rock solid and unbroken. There is a slight lift to the bridge though this is stable and hasnt moved during my ownership of it and it does not affect playability - an achievable cosmetic fix should the new owner desire but not necessary to improve function.
With regard to playability, the guitar plays nicely for an instrument of 50+ years. The action is low and comfortable, and there are few if any dead spots even high up the fretboard. Action can be an issue for older acoustics, but it is absolutely not for this guitar. It has a lovely, punchy tone with soft sustain, and every note has fantastic individual voicing.
Perfect for blues, folk or fingerpicking. There is wear to the 1st-3rd frets consistent with years of heavy playing/chording. This guitar has most definitely been picked up, played and loved consistently throughout the decades. As far as I can tell it is all original. The tuners are functional though stiff and the A tuner is slightly bent though solid and fully functional.
The end pins, as with all models of this period, are constructed out of wood (rather than synthetic/plastic) and are worn down. Though, with patience they do take and hold strings solidly though do protrude slightly when strung (particularly with the thick E string). This is simply due to the pins (being made of wood) being worn down, needing a little more to bite the strings and hold them in place when strung. I would never dream of replacing parts where possible on an all-original vintage guitar, though the new owner may want to replace them with contemporary synthetic pins for a more comfortable fit. This is is the problem with constructing durable parts out of wood - they age!
The inner bracing is slightly non-flush in some areas, and while solid and not loose or rattling at all, may want a little re-gluing in these areas (please see photos). So there you have it, an all-original, Kalamazoo, Michigan USA made Epiphone acoustic from a prestigious factory and golden period of musical instrument production history. A wonderful vintage guitar that can be played and enjoyed without guilt, rather than stored and never touched as a collectors piece. This will be packaged very carefully and sent fully tracked next day to ensure you receive it promptly. If you have any questions, then please do ask!
The item "Epiphone 1963 Caballero FT30 USA Gibson Kalamazoo Factory Made Acoustic Guitar" is in sale since Saturday, October 5, 2019. This item is in the category "Musical Instruments\Vintage Musical Instruments\Vintage Guitars & Basses\Acoustic Guitars".
The seller is "odhendrix" and is located in Nottingham. This item can be shipped to United Kingdom.
Year: 1963
Brand: Epiphone