Levin Model 133 super vintage guitar! Made in Sweden in 1960s! Read the full ad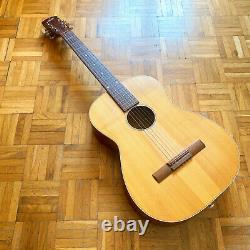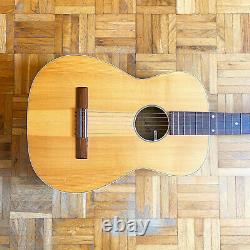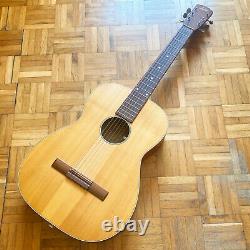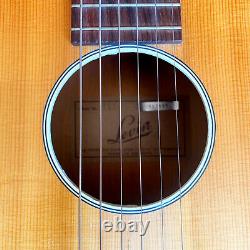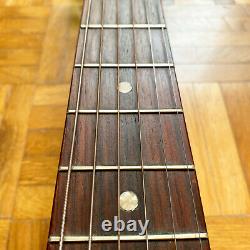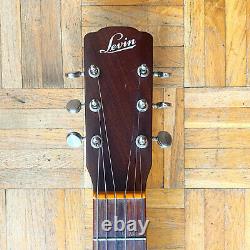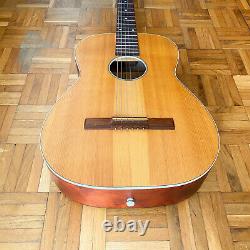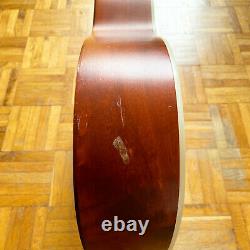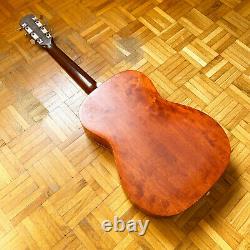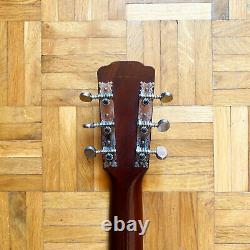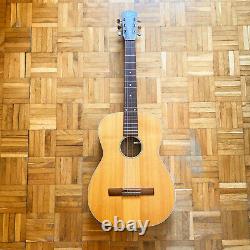 Levin Model 133 vintage guitar! Made in Sweden in 1960s!
Guitar is already playable and sounds great, however it probably needs a professional luthier setup check (change strings, etc). Cosmetically there are some traces of use, in particular two semi-circular scratches on the body near the bridge (see photo), two small cracks on one side (repaired by the previous owner) and a few other marks here and there. By the way the guitar plays great. It has more volume and sounds sweeter than expected. The action is super comfortable. The quality is great: it surely feels, plays, smells and sounds like a Levin! A gorgeus guitar with tons of history and old soul. A beautiful "Lady" who is now 60 years old! Extremely rare and highly collectable! Old Levin guitars are some of the best kept secrets out there.
And when theyre in good original condition like this one theyll inspire you to no end. Unbound rosewood fingerboard with pearl dot inlay. This is your chance to get your hands on an extremely rare gem: these don't often come up for sale... Don't miss your chance!
Very hard to let this one go, but it's not getting enough use and it's just time to move on. If you want more detailed photos ask and we will take them for you. Lovers of the Levin brand already know it: the old Levin guitars are among the best guitars ever produced in the 1900s. See photos & condition description for condition details, but feel free to ask questions.
We specialize in all things synthesizers, electric pianos, drum machines, samplers, effects and have a serious passion for vintage and used equipment. We started with an obsession for vintage gear, real hardware that was made to last and had that sound. You will notice when viewing our stock list our taste in instruments, as we only sell pieces that we genuinely like. Were dedicated to doing well what we love, building expertise in the instruments, and working hard to offer you the greatest satisfaction for your needs and preferences.
We are always looking for: solton programmer 24, solton arranger plus, solton project 100, solton ts4k, solton, ketron, elka omb, elka synthex, elka rhapsody, elka ek, elka ek 44, elka ek 22, elkatone, elkatwin, elka, roland mc-202, roland sh101, roland dj70, roland sp404, roland sp555, roland juno, juno 106, roland e 35, roland, quasimidi sirius, quasimidi the raven, yamaha vss 30, yamaha vss 200, yamaha dx7, yamaha reface, yamaha p45, yamaha sy1, yamaha cs50, yamaha tyros, yamaha, casio sk-1, casio sk-5, casio cz-101, casio cz-1000, casio cz-3000, casio, farfisa soundmaker, farfisa syntorchestra, hohner pianet, hohner clavinet, hohner string melody, virus, virus t2, wurlitzer 200, wurlitzer 200a, wurlitzer 206, wurlitzer 214, fender rhodes mk1, fender rhodes mk2, fender piano bass, fender, jen sx 1000, jen sx 2000, logan string melody, mellotron, memotron, selmer pianotron, weltmeister, weltmeister claviset, claviset 200, claviset 300, korg, korg poly, poly 800, polysix, korg microkorg, korg ms 10, korg ms 20, korg microsampler, korg m1, crumar, crumar trilogy, crumar multiman, crumar stratus, moog matriarch, memory moog, minimoog, multimoog, moog voyager, moog, elgam, arp odissey, vermona, wersi, echolette, davolisint, gem, akai, dave smith, prophet, sequential circuits, teisco, vermona, vermona e-piano, vermona piano strings, vermona er-9, boss km 60, boss rc 505, boss, emu vintage keys, ensoniq mirage, fender telecaster, fender stratocaster, gibson, gibson es, epiphone, epiphone casino, epiphone riviera, ibanez as, ibanez artstar, fostex, tc-electronics, behringer, small stone, reverb, phaser, nord electro, elektron, octatrak, proel, m-audio, alesis, peavey, rockbag, bespeco, quiklok, zoom, lexicon, synth, piano, piano elettrico, arturia, hammond, leslie, clavia, organo, godwin, vox, digitech, tascam 244, teac, etc. This Levin Model 133 guitar is fully working and in good cosmetical conditions.
This item is provided "As is" without warranties of any kind either express or implied. The item "Levin Model 133 super vintage guitar! Made in Sweden in 1960s! Read the full ad" is in sale since Saturday, August 21, 2021.
This item is in the category "Strumenti musicali\Chitarre e bassi\Chitarre acustiche". The seller is "reseller_italy" and is located in Bagno di Romagna.
This item can be shipped to all countries in Europe, United States, Canada.
Dimensioni: 4/4
Colore corpo: Wood
MPN: Non applicabile
Modello: 133
Articolo modificato: No
Configurazione corde: 6 Corde
Marca: Levin
Impugnatura: Destrorso
Livello: Avanzato
Inserzione bundle: No