Made In 1972 Yamaki F140 Absolutely Magnificent D45 Style Acoustic Guitar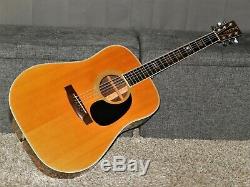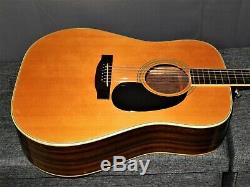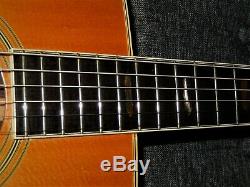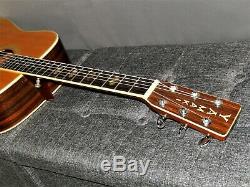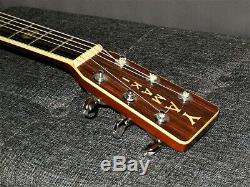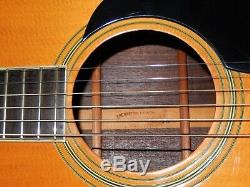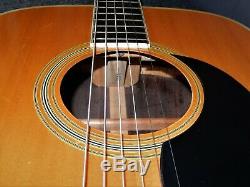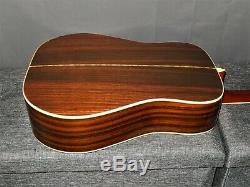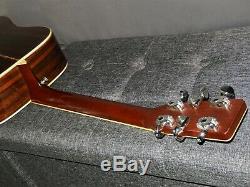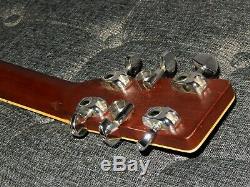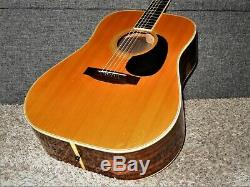 Yamaki F140 Acoustic Steel String Guitar. Most acoustic guitar players around the world know that since late 1960s Japanese makers were creating wonderful copies of Martin, Gibson and Guild guitars. Many experienced players know that many of these copies sound better than the originals. During 1970s Yamaki was of one of leading Japanese Gakkis, making high grade classical and based on Martin blueprints terrific steel string acoustic guitars.
Greatness of Yamaki acoustics has been recognized all around the world and their value remains unquestioned. Many experienced players know that they sound no different from made in USA originals. Some say, that they sound better. Serial number printed on the "heel" block inside the body suggests that this very fine guitar was made no later than 1972.
It was a part of Yamaki's Folk Jumbo line. It was listed as top model in 1971 catalog but as lower end model in 1973 catalog. It simply means that by 1973 Yamaki added several higher end models to their original 1971 lineup. By 1974 F series models were replaced by.
YW series and YM series. If you are familiar with far more expensive Martin guitars, there is a great chance, that youll be very happy with this amazing Yamaki instrument. You may actually become obsessed with its gorgeous tonality. This guitar sounds simply fantastic. It offers very impressive volume, super response and very rich, sparkly, yet sweet and lyrical tonality, with great deal of overtones and harmonics.
It certainly deserves a title of Concert instrument. With its current action and extra light strings, it plays easy.
This guitar was priced 40 000 yen in 1972, when starting yearly salary of Japanese College Graduate was around 65 000 yen. It is not that difficult to find out what are the current prices of Japanese made acoustic guitars.
The body of this guitars bears several very minor cosmetic imperfections: more than few small dents on its top, few tiny dents on its back, some attritions around sound hole, very small repair mark (won't show on the pictures) near the edge of right lower bout (it seems to be either deeper scratch or tiny crack sealed by glue applied from the top), small dent on the back of the neck and perhaps few other minor marks on other areas. The sticker placed on its "lower end" can be easily removed yet may leave that mark.
While great majority of Yamaki guitars from 1970s have developed serious cloudiness within finishes, this one is an exception. Despite all described above minor flaws, overall condition of this guitar can be described as at least very good for its age. Top: Solid Spruce/Martin style X bracing with not scalloped braces /lacquer.
Back & Sides: Semi-solid Indian Rosewood/lacquer. Laminated is quite unfortunate term regarding Japanese made guitars.
These plates were made from 2 layers of solid wood glued together with natural resins. They were made so well that they performed as good as solid woods while being far less expensive in guitar production and far more resistant to cracking in regular use. In recent years many guitar makers around the world adopted a new term "semi-solid" to describe these plates. Neck: Mahogany with 2-way truss rod. The action is set to 2.90 mm under E6 and 2.3 mm under E1, with no extra room on the saddle.
The story of Daion and Yamaki guitars is entwined with the histories of a number of other Japanese companies. In the late 1940s, brothers Yasuyuki and Kazuyuki Teradaira started working for Tatsuno Mokko, an instrument-building firm that later split into two different companies, one of which was called Hayashi Gakki. Hayashi Gakki was bought out by Zenon, a large music distributor. Yasuyuki left Zenon to start an instrument distributor he called Daion, located in Osaka and Daion is the Wholesaler of the Musical Instruments, and Daion distributed Yamaki guitars exclusively throughout Japan.
Daion means big sound in Japanese. Kazuyuki left Zenon to produce classical guitars under the name Yamaki located in Suwa City, Nagano Pref.
An auspicious Japanese word meaning happy trees on the mountain. By the early 1970s, Kazuyuki expanded the Yamaki line to include a large number of steel-string guitars, many of which were based on C.
S designs and were distributed exclusively through Daion. Hirotsugu Teradaira joined the organization, Yamaki was the guitar brand and Daion is only the wholesaling companys name, and it was not the name of the guitar brand. Yamaki factory produced the acoustic guitars and Daion distributed Yamaki guitars exclusively in Japan.
But Teradaira Brothers market was only restricted to Japan when they started. Sometime in the late 1960s, Daion began exporting Yamaki guitars to America and Canada, where they were well received. Yamakis production capacity was around 1000 instruments pr month or around 33000 in total.
Production capacity per month some were under Yamaki name and also Washburn USA brand and finally the Daion name. These were roughly split into Daion 70%, Yamaki 20%, Washburn 10% (Wings, Stage, and acoustics). Hirotsugu Teradaira graduated from the University in 1974, he joined his fathers distribution company.
Overall there were a total of 30 people working there. The Yamaki factory was located in Suwa and there were overall only about 50 people at the factory.
Their name is Great West Imports Ltd. And their head office is located in Vancouver. As a part of that deal, The Great West Import company hired Mr. Hirotsugu Teradaira as a warehouse worker doing the daytim and he studied English at the Community Collage after hours.
This lasted for good 2 year until 1977. After those 2 years Mr. Hirotsugu Teradaira came back to Japan and he started to designing acoustic guitars under the series name of The Year Series. This was in from 1978. After he had introduced The 78 Acoustic guitar he also started to add significant difference on each Year series and each electric guitars.
Later he also designed several other Daion instruments including the Daion Headhunter as well as Yamaki and Washburn instruments. There are 3 dates on the different Yamaki/Daion instruments. 1962 dates to when Yamaki was founded. 1967 was when Daion was founded. This date is very interesting because there is a lot of history there.
Adding an older image to the Daion brand, after talking to his uncle, Mr. Hirotsugu Teradaira decided to use 1954 as this was the first year that his uncle made his own guitar as a luthier. Hirotsugu Teradaira appointed one distributor in one country so there were the exclusive distributors in UK, France, Norway incl. Sweden, Denmark, Finland, Italy, Switzerland, Greece, Australia, Singapore. By the early 1980s, however, Daion felt that the Yamaki Martin-style guitars were getting lost among similar instruments from other Japanese builders like Takamine, Yasuma, and C.
Mountain, so they redesigned the entire acoustic line and started building acoustic-electrics and solid-body electrics as well as oddities like double-neck acoustics. They dropped the Yamaki name and rebranded their instruments as Daion guitars. Daion began an extensive advertising campaign to introduce the new line around 1982, but this was a time when musicians were more interested in the new MIDI-equipped synthesizers than in guitars.
In 1983 Yamaki moved from Suwa to Shiga, but both place are in Nagano Pref. And in fact, those 2 places are not too far away apart. Yamaki/Daion stopped exporting guitars to America and went out of business.
At the time of bankruptcy, it was nothing but chaos. After the bankruptcy of Yamaki/Daion, Teradaira brothers split and their correspondences came down to almost zero. Kazuyuki Teradaira moved and start producing Persimmon Wooden golf club heads.
He was quite successful making those. Any Daion instruments you see after mid 1984 were made by unknown luthiers. No Yamaki people produced any instruments around mid-80s.
Real Value of Japanese Vintage Guitars. The key to understand value of vintage Japanese guitars is to acknowledge galloping devaluation of Japanese yen in 1960s & 1970s.
This devaluation was somewhat slower in 1980s. The best measure of this devaluation is Starting Yearly Salary of Japanese College Graduate (SYSJCG). SYSJCG in 1965 was 19 600 yen, in 1969 34 600 yen, in 1970 39 200 yen, in 1972 62 300 yen, in 1975 79 200 yen, in 1977 86 200 and in 1980 - 100 000 yen. During 1960s and most of 1970s model numbers of Japanese guitars were strictly interconnected with their prices in Japanese yen. In late 1970s and during following decades model numbers were no longer strictly associated with their prices.
Many Japanese guitar makers introduced model names instead of model numbers. Others were still using model numbers with addition of letter abbreviations or other symbols. The best and only logical approach while evaluating real value (real grade) of vintage Japanese guitar is to compare its price in Japanese yen with SYSJCG during the year guitar was made. Any guitar priced 100 000 in 1970 (labelled usually as No10) would be priced 200 000 yen in 1975 (relabeled to No20 or 2000), 300 000 yen in 1977 (labelled as No3, No30 or 3000).
Starting in 1977 Masaru Kohno introduced his new models No40 priced 400 000 yen and No50 priced 500 000 yen. By 1984 Kohno started using model names instead numbers and was raising their prices as he was pleased.
Model 50 became model Maestro, model 40 became model Special, model 30 became model Professional-J. Naturally other Master luthiers were doing the same name/price changes. Knowing all of that, you can bet on that Masaru Kohno No50 made in 1982 is practically the same grade instrument as Kohno No20 made in 1972, or Kohno no 30 made in 1976. Kohno No40 made in 1982 is exactly the same grade instruments as Kohno No15 made in 1972 or Kohno No20 made in 1975. All you need to do is.
Notify me within 48 hours after receiving the guitar. Pack guitar the same way I do it, using the same box and materials and s. Hip it back to me within 24 hours after "return notification". The item "MADE IN 1972 YAMAKI F140 ABSOLUTELY MAGNIFICENT D45 STYLE ACOUSTIC GUITAR" is in sale since Sunday, August 16, 2020. This item is in the category "Musical Instruments & Gear\Guitars & Basses\Acoustic Guitars".
The seller is "victork1962" and is located in Alpharetta, Georgia. This item can be shipped to United States, Canada.
String Configuration: 6 String
Model: F140
Modified Item: No
Country/Region of Manufacture: Japan
Custom Bundle: No
Non-Domestic Product: No
Exact Year: 1972
Body Material: Rosewood
Soundboard Style: Flat Top
Brand: Yamaki
Body Type: Dreadnought