Made In 1975 By Ryoji Matsuoka Aria D80 Amazing D35 Style Acoustic Guitar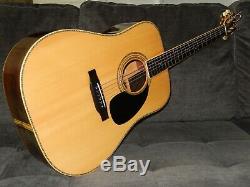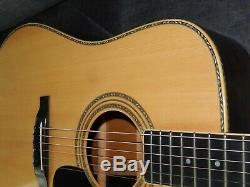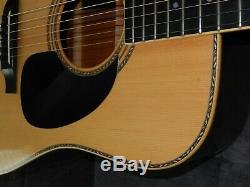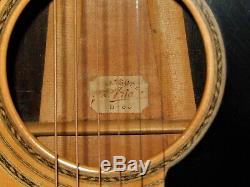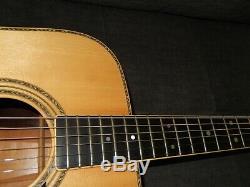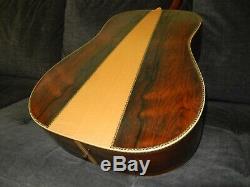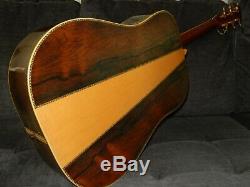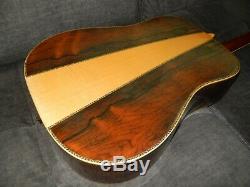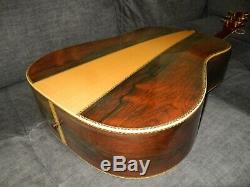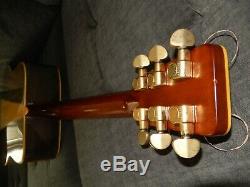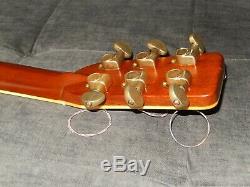 This guitar was handmade by Master Luthier Ryoji Matsuoka in 1975. Ryoji is far better known in the world as the maker of wonderful classical guitars. Since late 1960s through early 1970s most of his classical guitars were made for Aria and Morris Co. From early through mid1970s Matsuoka was also making limited number of terrific steel string acoustic dreadnought guitars.
Ryoji Matsuoka was making these terrific acoustic Arias only until 1976. The very top model of that era was D200 with solid Figured Brazilian rosewood b/s, followed by D150 with solid straight grain BR b/s and D100 with solid Indian Rosewood b/s. Models D200 and D150 both had Martin D45 looks and Matsuoka vertical logo.
Arias catalog from 1976 presents all these guitars as Master Pieces by Ryoji Matsuoka. All these Arias had Matsuoka (wooden) label inside. In 1976 the lowest model in Arias lineup was D50. Matsuoka also made Arias DS100, DS80 and DS60, all with Torch Inlay on the headstock and snowflake positions marks. Since 1977 Arias introduced new acoustic guitar lineup with Arias own vertical logo.
The top models of that era were W100 and W80 (both with Martin D45 style looks). Perhaps only W100 was all solid woods construction. All Matsuoka acoustics were made basing on Martin blueprints.
I wont however call them copies of Martin guitars. The word copy suggests a product of somewhat lower quality than the original. This guitar can easily beat many brand-new Martin guitars. It offers impressive volume and superb response. Basses are deep but very clean.
Trebles are metallic but very sweet at the same time. All notes have their unique colors, all are super clear and super well separated. When chords/arpeggios are played guitar releases a bounty of overtones and harmonies. It is simply a Symphony Orchestra in one body.
This guitar was priced 80 000 yen in 1975, when Starting Yearly salary of Japanese College Graduate was 79 200 yen. It is very important to emphasize that due to total lack of material, in recent years Japanese Gakkis practically stopped making guitars with high grade Brazilian Rosewood laminates.
Players who are willing to pay this price are experienced enough to know that guitars with backs & sides made from high grade Brazilian Rosewood laminates sound very close to far more expensive guitars made with solid Brazilian Rosewood backs & sides. It is actually very hard to find guitars with solid Indian Rosewood b/s that, regardless of their price, that would sound better than guitar you are looking at. Despite its age overall condition of this guitar can be described as "at least excellent for its age".
Besides a tiny dent on its headstock, other surfaces and scratch/dent free. Original Grover tuning keys have lost a lot from their original luster yet work very smooth. The most noticeable imperfection is cloudiness of the finishes, which by its nature, is mostly visible on dark back and sides. This cloudiness is very common on Matsuoka guitars from that era.
It naturally doesnt affect the sound nor playability of this otherwise very beautiful instrument. Top: Solid Spruce with Martin style X bracing with not scalloped braces.
3 Pieces Back: 2 plates of Brazilian Rosewood laminates and Flamed Maple wedge. Sides: High Grade Brazilian Rosewood laminates. Neck: Mahogany with 2-way truss rod. The action is set to 2.00 mm under E6 and 2.00 mm under E1, with practically no extra room on the saddle. Real Value of Japanese Vintage Guitars. The key to understand value of vintage Japanese guitars is to acknowledge galloping devaluation of Japanese yen in 1960s & 1970s.
This devaluation was somewhat slower in 1980s. The best measure of this devaluation is Starting Yearly Salary of Japanese College Graduate (SYSJCG). SYSJCG in 1965 was 19 600 yen, in 1969 34 600 yen, in 1970 39 200 yen, in 1972 62 300 yen, in 1975 79 200 yen, in 1977 86 200 and in 1980 - 100 000 yen. During 1960s and most of 1970s model numbers of Japanese guitars were strictly interconnected with their prices in Japanese yen.
In late 1970s and during following decades model numbers were no longer strictly associated with their prices. Many Japanese guitar makers introduced model names instead of model numbers. Others were still using model numbers with addition of letter abbreviations or other symbols. The best and only logical approach while evaluating real value (real grade) of vintage Japanese guitar is to compare its price in Japanese yen with SYSJCG during the year guitar was made. Any guitar priced 100 000 in 1970 (labelled usually as No10) would be priced 200 000 yen in 1975 (relabeled to No20 or 2000), 300 000 yen in 1977 (labelled as No3, No30 or 3000).
Starting in 1977 Masaru Kohno introduced his new models No40 priced 400 000 yen and No50 priced 500 000 yen. By 1984 Kohno started using model names instead numbers and was raising their prices as he was pleased.
Model 50 became model Maestro, model 40 became model Special, model 30 became model Professional-J. Naturally other Master luthiers were doing the same name/price changes. Knowing all of that, you can bet on that Masaru Kohno No50 made in 1982 is practically the same grade instrument as Kohno No20 made in 1972, or Kohno no 30 made in 1976. Kohno No40 made in 1982 is exactly the same grade instruments as Kohno No15 made in 1972 or Kohno No20 made in 1975.
All you need to do is. Notify me within 48 hours after receiving the guitar. Pack guitar the same way I do it, using the same box and materials and s. Hip it back to me within 24 hours after "return notification". The item "MADE IN 1975 BY RYOJI MATSUOKA ARIA D80 AMAZING D35 STYLE ACOUSTIC GUITAR" is in sale since Thursday, July 11, 2019.
This item is in the category "Musical Instruments & Gear\Guitars & Basses\Acoustic Guitars". The seller is "victork1962" and is located in Alpharetta, Georgia. This item can be shipped to United States, all countries in Europe, Canada.
Non-Domestic Product: No
Modified Item: No
Custom Bundle: No
Brand: Morris