Made In 1977 By Kasuga Gakki K. Country D400 Great D45 Style Acoustic Guitar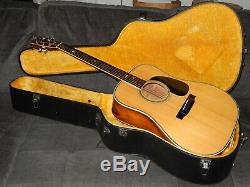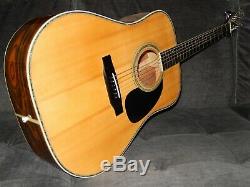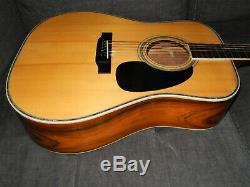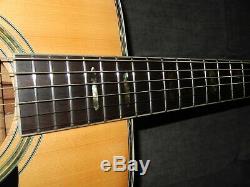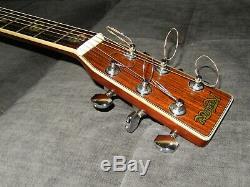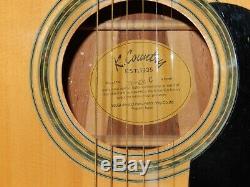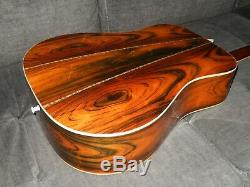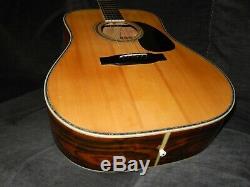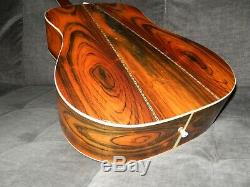 This guitar was made sometime around 1976/77 by Kasuga Gakki. It was the top model within Kasugas K. If you try to search the internet you can find very limited information about Kasuga Gakki, including their ties with Tokai Gakki and Yamaha Corporation. Very few available catalogs of Kasuga guitars, don't show all models made by Kasuga over the years of its existence.
Many of Kasuga models are of very high quality and are highly sought by collectors and players familiar with Japanese makers and their masterpieces. Kasuga was making steel string acoustic and classical guitars since at least mid1960s. They had various labelling systems and various model numbers, many of them made for export with importers brand/design labels.
No later than in 1975 Kasuga Gakki launched their own steel string acoustic guitar lineup branded as K. This lineup included DS series, D series and HC series. 1975 catalog shows model D350 as the top of D series.
1977 catalog shows model D400 as the top of D series. Because this guitar has solid Spruce top and laminated figured Brazilian Rosewood b/, it matches description from 1977 catalog. It also could have been made in 1976, but certainly not much later. By 1979 specifications of model K. Country D400 was changed to laminated Spruce top and laminated straight grain BR b/s.
This guitar wasnt cheap at all. It was priced 40 000 yen while in 1977 starting yearly salary of Japanese college graduate was around 85 000yen. It is great sounding and very easy to play instrument, that will satisfy not only a beginner. Overall condition of this guitar can be described as at least very good for its age.
Its body bears only few small and very light scratches. Visible on the pictures, grayish spots on its back (center wedge plate) are all within the finish.
Top: Solid Spruce/Martin style X bracing with not scalloped braces /gloss finish. 3 piece Back& Sides: "semi-solid" Brazilian Rosewood/gloss finish. Laminated is quite unfortunate term regarding Japanese made guitars.
These plates were made from 2 layers of solid wood glued together with natural resins. They were made so well that they performed as good as solid woods while being far less expensive in guitar production and far more resistant to cracking in regular use. In recent years many guitar makers around the world adopted a new term "semi-solid" to describe these plates. Neck: Mahogany with 2-way truss rod. The action is set to 2.50 mm under E6 and 2.0 mm under E1, with still some extra room on the saddle.
Real Value of Japanese Vintage Guitars. The key to understand value of vintage Japanese guitars is to acknowledge galloping devaluation of Japanese yen in 1960s & 1970s. This devaluation was somewhat slower in 1980s. The best measure of this devaluation is Starting Yearly Salary of Japanese College Graduate (SYSJCG). SYSJCG in 1965 was 19 600 yen, in 1969 34 600 yen, in 1970 39 200 yen, in 1972 62 300 yen, in 1975 79 200 yen, in 1977 86 200 and in 1980 - 100 000 yen. During 1960s and most of 1970s model numbers of Japanese guitars were strictly interconnected with their prices in Japanese yen. In late 1970s and during following decades model numbers were no longer strictly associated with their prices. Many Japanese guitar makers introduced model names instead of model numbers. Others were still using model numbers with addition of letter abbreviations or other symbols.
The best and only logical approach while evaluating real value (real grade) of vintage Japanese guitar is to compare its price in Japanese yen with SYSJCG during the year guitar was made. Any guitar priced 100 000 in 1970 (labelled usually as No10) would be priced 200 000 yen in 1975 (relabeled to No20 or 2000), 300 000 yen in 1977 (labelled as No3, No30 or 3000).
Starting in 1977 Masaru Kohno introduced his new models No40 priced 400 000 yen and No50 priced 500 000 yen. By 1984 Kohno started using model names instead numbers and was raising their prices as he was pleased. Model 50 became model Maestro, model 40 became model Special, model 30 became model Professional-J.
Naturally other Master luthiers were doing the same name/price changes. Knowing all of that, you can bet on that Masaru Kohno No50 made in 1982 is practically the same grade instrument as Kohno No20 made in 1972, or Kohno no 30 made in 1976. Kohno No40 made in 1982 is exactly the same grade instruments as Kohno No15 made in 1972 or Kohno No20 made in 1975.
All you need to do is. Notify me within 48 hours after receiving the guitar. Pack guitar the same way I do it, using the same box and materials and s. Hip it back to me within 24 hours after "return notification". The item "MADE IN 1977 BY KASUGA GAKKI K. COUNTRY D400 GREAT D45 STYLE ACOUSTIC GUITAR" is in sale since Wednesday, November 20, 2019. This item is in the category "Musical Instruments & Gear\Guitars & Basses\Acoustic Guitars".
The seller is "victork1962" and is located in Alpharetta, Georgia. This item can be shipped to United States, all countries in Europe, Canada.
Exact Year: 1977
String Configuration: 6 String
Model: D400
Country/Region of Manufacture: Japan
Brand: Kasuga