Made In 1977 Kiso Suzuki Violin W65da Gibson Dove Style Acoustic Guitar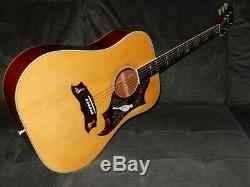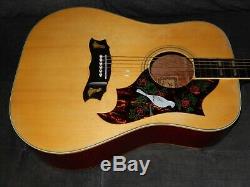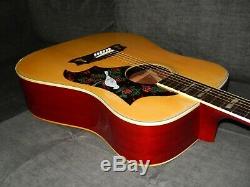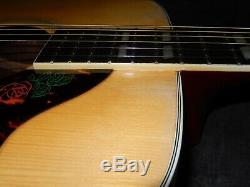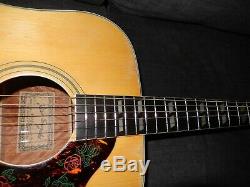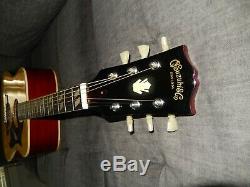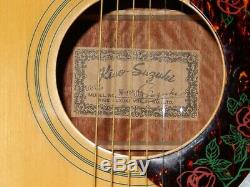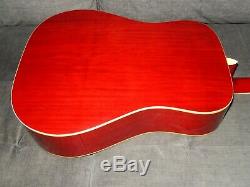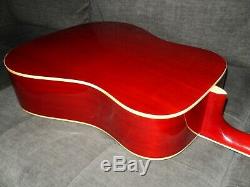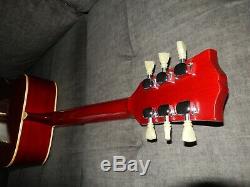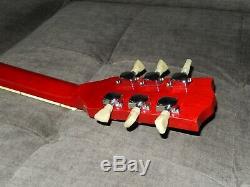 Kiso Suzuki Violin W65DA Gibson Dove Style acoustic guitar. This terrific guitar was made in mid/late 1970s by Kiso Suzuki Violin Co. One of the oldest and highest reputable Japanese musical instrument makers. Although I couldnt say in the title of this posting this guitar is clearly a copy of Gibson Dove. I guess everybody interested in acoustic guitars knows well that during 1970s Japanese makers were making terrific copies of Martin, Gibson and Guild guitars.
Many experienced players know that these copies often sound better than the originals. Guitar you are looking at proves just that. I know youll agree right after you start playing this guitar.
This guitar sounds simply fantastic. At the time it was made it wasnt a cheap instrument at all. It was priced 65000 yen while in 1977 Starting Yearly Salary of Japanese College Graduate was around 85000 yen. Overall condition is at least very good for its age. Guitar doesnt have any structural defects, is fully functional and plays very easy. It has few very minor cosmetic imperfections, out of which the most conspicuous is very light scratch on its top. Some Its originally white biding strips turned yellowish or light brownish.
You may also see some discolorations within the finish on the top along the top edges of upper bout and near the pickguard (see pictures). There are however 2 more important details I need to share with you. Its pickguard doesnt adhere to the surface of the soundboard perfectly. It almost looks like it shrunk a bit and one can see traces of the glue around it. If you press on it, youll have an impression that it flexes.
If you look at it from the side, it seems to be flat. I assume there are some tiny air bubbles underneath it. All the above is nothing unusual for vintage guitars including all hand made in USA. The most important detail is that this pickguard is still firmly attached to the soundboard and guitar can be used as it is for many years to come.
If you look closely at the whitish binding strip running along the fingerboard on the E1 string side, in the section between the pickguard and the edge of the soundboard (see picture 4) you may see hair-like cracks between the binding and surface of the soundboard. Solid Spruce/ light coat of lacquer. Back & Sides: Mahogany laminates /urethane. Neck: Mahogany with 2-way truss rod. Nut width: 43.00 mm.
The action is set to 2.20 mm under E6 and 1.8 mm under E1, with still extra room on the saddle. Real Value of Japanese Vintage Guitars. The key to understand value of vintage Japanese guitars is to acknowledge galloping devaluation of Japanese yen in 1960s & 1970s.
This devaluation was somewhat slower in 1980s. The best measure of this devaluation is Starting Yearly Salary of Japanese College Graduate (SYSJCG). SYSJCG in in 1965 was 19 600 yen, in 1969 34 600 yen, in 1970 39 200 yen, in 1972 62 300 yen, in 1975 79 200 yen, in 1977 85 200 and in 1980 - 100 000 yen.
During 1960s and most of 1970s model numbers of Japanese guitars were strictly interconnected with their prices in Japanese yen. In late 1970s and during following decades model numbers were no longer strictly associated with their prices.
Many Japanese guitar makers introduced model names instead of model numbers. Others were still using model numbers with addition of letter abbreviations or other symbols. The best and only logical approach while evaluating real value (real grade) of vintage Japanese guitar is to compare its price in Japanese yen with SYSJCG during the year guitar was made. Any guitar priced 100 000 in 1970 (labelled usually as No10) would be priced 200 000 yen in 1975 (relabeled to No20 or 2000), 300 000 yen in 1977 (labelled as No3, No30 or 3000).
Starting in 1977 Masaru Kohno introduced his model No50 priced at 500 000 (skipping theoretical model 40). Soon other famous Japanese luthiers did the same. By 1983 Kohno started using model names instead numbers and was raising their prices as he was pleased.
Naturally soon other Master luthiers did the same. Knowing all of that, you can bet on that Masaru Kohno No50 made in 1982 is practically the same quality as Kohno No15 made in 1972, or Kohno no20 made in 1975 or Kohno No30 made in 1977. I know it for a fact. The lowest grade models currently made by Matsuoka workshop are M75 and MH75. They are commonly considered as beginner guitars.
Matsuoka model M30 made in 1973 is simply far, far better instrument. It is naturally better than model M50 made in 1977, model 80 made in 1982 or model M100 made in 1990. At present, the highest grade Matsuoka models are M300 and MH300. They absolutely stand no chance in competition with model M150 made in 1975 or model M200 made in 1977.
All you need to do is. Notify me within 48 hours after receiving the guitar. Pack guitar the same way I do it, using the same box and materials and s. Hip it back to me within 24 hours after "return notification". The item "MADE IN 1977 KISO SUZUKI VIOLIN W65DA GIBSON DOVE STYLE ACOUSTIC GUITAR" is in sale since Sunday, May 5, 2019.
This item is in the category "Musical Instruments & Gear\Guitars & Basses\Acoustic Guitars". The seller is "victork1962" and is located in Alpharetta, Georgia. This item can be shipped worldwide.
Non-Domestic Product: No
Model: W65DA
Modified Item: No
Custom Bundle: No
Brand: Kiso Suzuki Violin