Made In Japan 1982 Morris Tf801 Simply Wonderful D45 Style Acoustic Guitar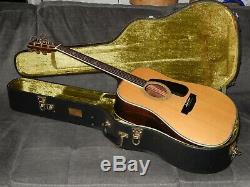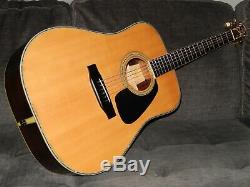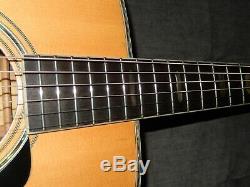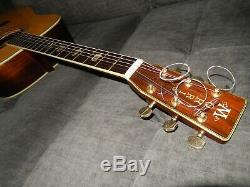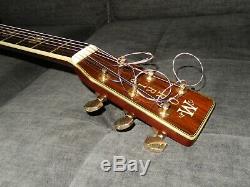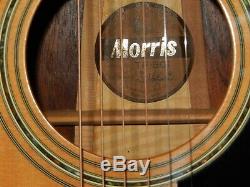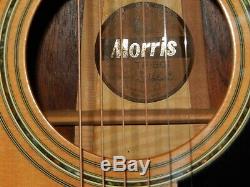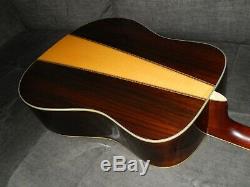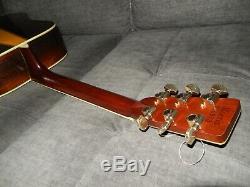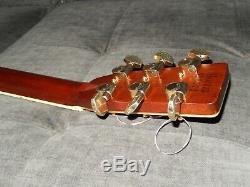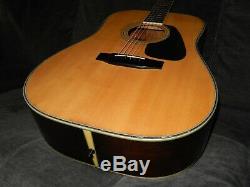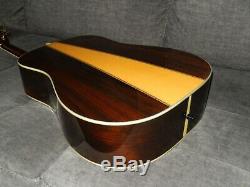 Everything you said it was Incredible play Sounds beautiful! Most acoustic guitar players around the world know that since late 1960s Japanese makers were creating wonderful copies of Martin, Gibson and Guild guitars. Many experienced players know that many of these copies sound better than the originals. This guitar was handmade early/mid1980s by best Morris luthiers at their Matsumoto workshop. It was a part of Morris TF series that was launched in late 1970s.
Until 1980 TF series guitars were still labelled as Wxx. Starting in 1981 all models were labelled as TFxxx. Model TF801 was the same guitar as W50 made in earlier years. The construction and looks of this wonderful guitar are based on Martin D45 blueprint. I wont however call it a copy of Martin D45.
The word copy suggests a product of somewhat lower quality than the original, while this guitar can easily beat many brand-new Martin guitars. It is not that difficult to find out what are the current prices of Japanese made acoustic guitars. It offers impressive volume and superb response. Basses are deep but very clean. Trebles are metallic but very sweet at the same time. All notes have their unique colors, all are super clear and super well separated. When chords/arpeggios are played guitar releases a bounty of overtones and harmonies. With its current action it plays ultra-easy. You don't have to believe me, but you will believe your own senses. Even though original tuning keys have lost their original luster.
Overall condition of this guitar can be described as excellent. Uitar's body survived in near mint condition, without even tiniest scratches or dents.
The only (and not that easy to spot at first glance) "damage" is chipped off corner of the nut at E6 string side. This really doesn't affect anything, because the string sits tight in its original groove. If however this wouldn't stop bothering you in the long run, brand new GraphTech replacement nut is resting inside the case. Also, when you touch the area around end pin, you'll feel odges of sides plates where they meet plastic center strip.
However there is no separation of any kind there. Guitar doesnt have any structural problems, its neck is straight and frets are leveled. Top: Thin plate of very tight grain Solid Spruce with reinforcing ring of wood glued underneath the sound-hole /Martin style X bracing with not scalloped braces /ultra-light gloss finish. Back: Brazilian Rosewood/Chestnut/Brazilian Rosewood laminates /lacquer.
Sides: Brazilian Rosewood laminates /lacquer. Laminated is quite unfortunate term regarding Japanese made guitars.
These plates were made from 2 layers of solid wood glued together with natural resins. They were made so well that they performed as good as solid woods while being far less expensive in guitar production and far more resistant to cracking in regular use.
In recent years many guitar makers around the world adopted a new term "semi-solid" to describe these plates. Neck: Mahogany with 2-way truss rod. The action is set to 2.70 mm under E6 and 2.20 mm under E1, with practically no extra room on the saddle. Some info related to this guitar.
Founded in 1967 by Toshio "Mori" Moridaira, the Moridaira factory produced high-quality guitars, including the infamous Morris badged guitar. Moridaira also produced badged guitars for Hohner including Coronado, Futurama, H. Anderson, Lotus (some) and Sakai. The Morris Guitars company has been building quality handcrafted instruments in Nagano, Japan for a long time.
Toshio Moridaira, the founder, was the first distributor in Japan to carry both Fender and Gibson lines. In 1964, due to his working relationship with Gibson, Mr. Moridaira was able to visit the Gibson factory in Kalamazoo, Michigan. An employee at Gibson nicknamed him Mori at that time. In 1967, he founded the Morris Guitars company.
He named it Morris, taken from the nickname given to him a while back. Morris produced copies of dreadnought and small jumbo models based on Martin and Gibson designs. Since then, Morris Guitars have enjoyed an outstanding reputation in Japan and other countries for making high quality guitars. In 1974, Morris introduced their guitars at the NAMM show.
In 1978, Morris introduced the Tornado line, thin body acoustic-electric guitars inspired by the Ovation design. Up until the early 80s, the U. Market saw a variety of guitars that Morris imported from Japan.
In 2001, after a lengthy absence, Morris Guitars re-entered the U. They participate in the annual Winter NAMM Show in Anaheim, CA. Morris Guitars currently offer a wonderful line of fingerstyle guitars with a middle price range. Custom hand built models are also available. Today, Morris Guitars are played by some of the worlds finest fingerstyle guitarists.
Our products are available through a small number of dealers here in the U. All you need to do is. Notify me within 48 hours after receiving the guitar.
Pack guitar the same way I do it, using the same box and materials and s. Hip it back to me within 24 hours after "return notification". The item "MADE IN JAPAN 1982 MORRIS TF801 SIMPLY WONDERFUL D45 STYLE ACOUSTIC GUITAR" is in sale since Wednesday, November 20, 2019. This item is in the category "Musical Instruments & Gear\Guitars & Basses\Acoustic Guitars".
The seller is "victork1962" and is located in Alpharetta, Georgia. This item can be shipped to United States, Canada.
Non-Domestic Product: No
Model: W50
Modified Item: No
Custom Bundle: No
Brand: Morris