Made In Japan In 1978 Yamaha L5 Steel String Acoustic Grand Concert Guitar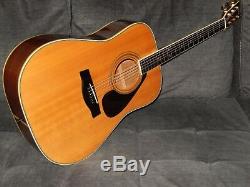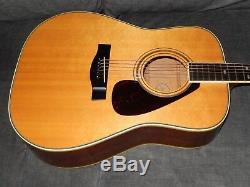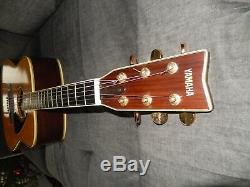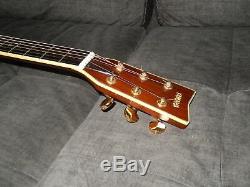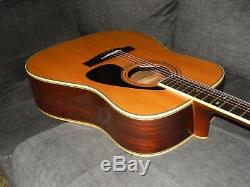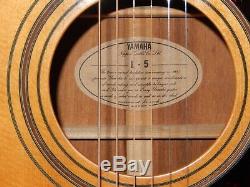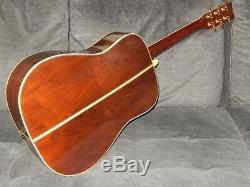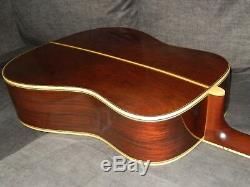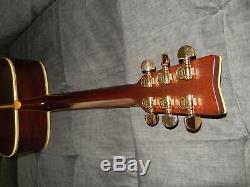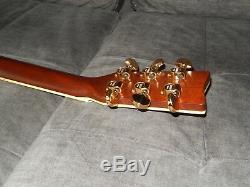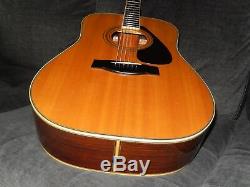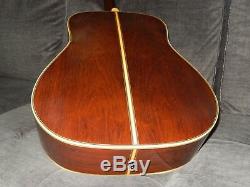 This Yamaha guitar was made around 1977/78 at Yamaha's Custom Workshop in Hamamatsu, Japan. Since early 1970s this workshop was led and supervised by Terry Nakamoto, a luthier legend in his own right. Yamahas L series acoustic guitars were priced at the same level as Yamahas classical guitar Grand Concert models. Since late 1960s Japanese guitar makers were trying hard to win as many international customers as possible. These were the years of significant international recognition of their, soon very highly regarded products.
Their guitars offered the highest possible level of craftsmanship with great deal of attention to even the tiniest details. Yamaha was unquestioned leader among Japanese guitar exporters and by late 1970s it was also a world leader on musical instruments market. The same late 1970s were also the end of "Golden Era" for Japanese guitar makers.
As one of major Japanese guitar makers Yamaha had to do redesign their guitar lineups in order to stay profitable. Their lower end models had to be made from lower grade materials and simpler way, while higher end models had to be priced higher. In order to offer great quality instruments at affordable prices, in mid 1980s Yamaha decided to close their old Tenryu/Wada factory and open new Kaohsiung Factory in Taiwan. Since that moment only the very top Yamaha models were made by its custom shops in Hamamatsu.
In 1990 Yamaha opened yet another factory in Indonesia. As of today, great majority of Yamaha guitars are made in China. Those made in Japan are priced very high. I hope that by now you may realize the real value of this nearly 40 years old wonderful Yamaha L5... Yamaha L5 was priced 50 000 yen in 1978, when starting yearly salary of Japanese college graduate was around 90 000 yen.
At least "very good for its age" cosmetic condition. Its body bears several very light scratches and few tiny dents. Its tuning keys have lost some of their original luster. Visible on the pictures mild cloudiness of it finishes completely disappears in regular light. This guitar is loud and very responsive.
Its tonality is of breathtaking beauty, rich with overtones and harmonies yet combined with very high level of note clarity and separation all along the neck. There are no weaker or dead notes.
They are all evenly expressive across entire range. All these traits are "magnified" by very extended sustain. It is simply a magical joy to play this Yamaha guitar.
Laminated is quite unfortunate term regarding Japanese made guitars. In recent years guitar makers around the world adopted new term "semisolid" that more precisely describes construction of such plates. Hese plates were made from 2 layers of solid wood glued together with natural resins.
They were made so well that they performed as good as solid woods while being far less expensive in guitar production and far more resistant to cracking in regular use. Action is set to 2.90mm under E6 and 2.4 mm under E1 with very little extra room on the saddle. Real Value of Japanese Vintage Guitars. The key to understand value of vintage Japanese guitars is to acknowledge galloping devaluation of Japanese yen in 1960s & 1970s.
This devaluation was somewhat slower in 1980s. The best measure of this devaluation is Starting Yearly Salary of Japanese College Graduate (SYSJCG). SYSJCG in in 1965 was 19 600 yen, in 1969 34 600 yen, in 1970 39 200 yen, in 1972 62 300 yen, in 1975 79 200 yen, in 1977 90 200 yen and in 1980 - 100 000 yen. During 1960s and most of 1970s model numbers of Japanese guitars were strictly interconnected with their prices in Japanese yen.
In late 1970s and during following decades model numbers were no longer strictly associated with their prices. Many Japanese guitar makers introduced model names instead of model numbers. Others were still using model numbers with addition of letter abbreviations or other symbols. The best and only logical approach while evaluating real value (real grade) of vintage Japanese guitar is to compare its price in Japanese yen with SYSJCG during the year guitar was made. Any guitar priced 100 000 in 1970 (labelled usually as No10) would be priced 200 000 yen in 1975 (relabeled to No20 or 2000), 300 000 yen in 1977 (labelled as No3, No30 or 3000).
Starting in 1977 Masaru Kohno introduced his model No50 priced at 500 000 (skipping theoretical model 40). Soon other famous Japanese luthiers did the same.
By 1983 Kohno started using model names instead numbers and was raising their prices as he was pleased. Naturally soon other Master luthiers did the same.
Knowing all of that, you can bet on that Masaru Kohno No50 made in 1982 is practically the same quality as Kohno No15 made in 1972, or Kohno no20 made in 1975 or Kohno No30 made in 1977. I know it for a fact. The lowest grade models currently made by Matsuoka workshop are M75 and MH75. They are commonly considered as beginner guitars. Matsuoka model M30 made in 1973 is simply far, far better instrument. It is naturally better than model M50 made in 1977, model 80 made in 1982 or model M100 made in 1990. At present, the highest grade Matsuoka models are M300 and MH300. They absolutely stand no chance in competition with model M150 made in 1975 or model M200 made in 1977. All you need to do is. Notify me within 48 hours after receiving the guitar.
Pack guitar the same way I do it, using the same box and materials and s. Hip it back to me within 24 hours after "return notification". The item "MADE IN JAPAN IN 1978 YAMAHA L5 STEEL STRING ACOUSTIC GRAND CONCERT GUITAR" is in sale since Monday, March 16, 2020. This item is in the category "Musical Instruments & Gear\Guitars & Basses\Acoustic Guitars". The seller is "victork1962" and is located in Alpharetta, Georgia.
This item can be shipped to United States, Canada.
Exact Year: 1980
String Configuration: 6 String
Model: L5
Country/Region of Manufacture: Japan
Brand: Yamaha