Yamaha FG300 Red Label'Nippon Gakki' Acoustic Guitar, Made in Japan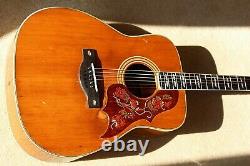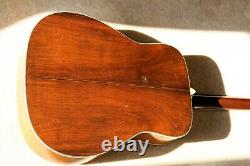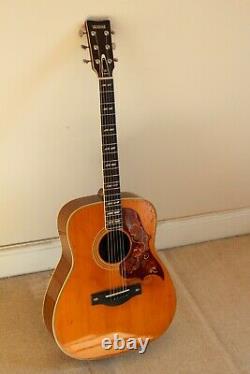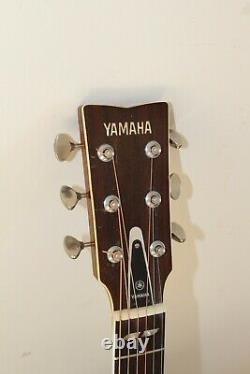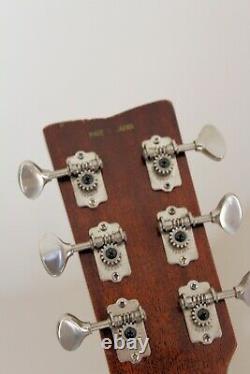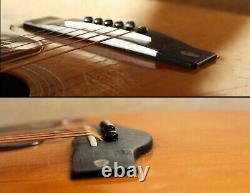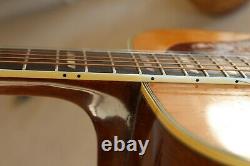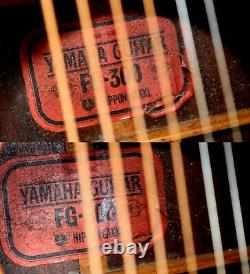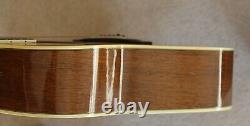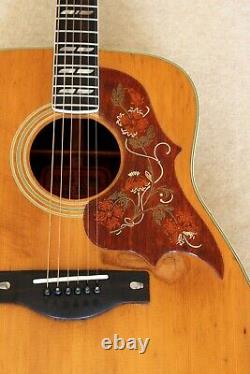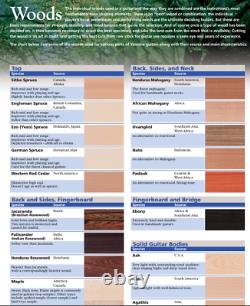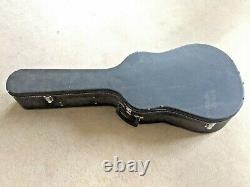 Superb sounding and playing Yamaha FG300 Red Label'Nippon Gakki' acoustic. Laminated spruce top and laminated Jacaranda/Brazilian Rosewood back and sides. The Yamaha laminates from this era are.
Like modern laminates in that they are solid sheets of spruce glued in opposing grain direction for stability, as opposed to modern laminates which consist of cheap hardwoods or. With a wafer-thin spruce veneer on top. I prefer to think of the Yamahas of this era as solid laminates, if that makes any sense.
Re the back and sides, while there is dispute on various guitar forums etc about Jacaranda/Brazilian Rosewood (ie many claim that Jacranda is not BR) n. Ote that Yamaha Guitar co describes Jacaranda as'Brazilian Rosewood' in its own brochures - the capture in image 11 is taken from a'Yamaha Guitars - Essential Knowledge', I can provide a link to the PDF if needed.
I've owned FG180s, FG280s, FG140s from this era which were made with the same solid laminates and they are. A match for an all solid guitar in my opinion. Their great advantage over true solid guitars is they are much more. And far less susceptible to cracking and. This extra stability allowed Yamaha to use a lighter than usual bracing system meaning a more feely vibrating top, something which largely explains the Red Label era FG series' great tone.
From research I date the guitar as late 60s. Complicated by the fact that most of the serial number has worn off or been somehow rubbed out during the guitar's life. However the earlier'paddle' shaped headstock certainly suggests late 60s. The original floating adjustable bridge and adjustable saddles (if you google you'll find images) have been removed and the bridge reconfigured for a standard bone saddle. This was achieved by splicing a new piece or rosewood into the channel left by the original bridge and routing a new saddle slot.
This was very carefully done to preserve the correct scale length and intonation, both of which are spot-on. The original bridge pin holes were filled with dowel and new holes drilled closer to the saddle to create a more acute string break-angle over the saddle akin to e. G a Martin bridge, adding substantially more volume and sustain. Although cosmetically the guitar is road-worn and has scars, it is totally sound structurally and oozes character. The worn area below the pickguard has been sealed and a clear epoxy based finish applied to protect the area from further wear.
It indicates the guitar has been played-in a hell of a lot over its life, which is certainly a good thing. A full re-fret was carried out last year, as such fret-ware is zero. No reset was required because the FG-300s were originally built with a steeper than normal neck angle to compensate for the high adjustable bridge. The neck itself straight and true, intonation is spot on all the way up the fret-board.
Action 2.2 mm (bass side) to 1.7 mm (treble side), ie low but not silly low, plenty on the saddle for further adjustment in future if/as necessary. Truss-rod works fine, the truss rod adjustment nut has been lubricated for easy turning though it has already been set correctly. The top shows absolutely no signs of warping or lifting and is flat and true behind the bridge where you would normally expect to see some lift on very old guitars. The'Dove' style pickguard was removed, completely cleaned up, carefully flattened out with gentle heat treatment (it had been quite warped before this process) and replaced. The original Yamaha machine-heads work well and keep the guitar in tune, however at 50+ years old they are not as smooth and easy as, e. G, modern Gotoh/Grover type machine-heads. I was tempted to replace them but didn't want to compromise the true vintage look of the guitar. If you are a gigging musician you would probably benefit from high quality replacements - but for general use I find these originals perfectly OK. The guitar has a full, rich, earthy tone with excellent volume and sustain while being quite'mellow' i. Not at all brash/trebly as per many modern guitars. It has lovely overtones and sounds especially great in dropped tunings. Rather than describe the sound in detail (which is always difficult) I will endeavour to upload a video of the guitar being played within the next few days, I will provide a link once done. The guitar is perfectly set up and is comfortable and easy to play. The neck profile is relatively chunky (by modern Taylor/Martin'slim oval' standards) and has what I would call a soft'V' profile. Nut width is approx 44.5 mm, string spacing E-E 37mm, so fine for those with bigger hands. Comes with a fairly old standard hard case which is a little tatty but does the job.
String spacing at bridge: 52mm. Saddle height above bridge: 3.2mm (bass side), 3mm (treble side). Saddle height above top i.
From underside of string to actual guitar top at bridge: 12mm (bass side), 11mm (treble side). Apologies if my description is a little long-winded, I've tried to cover everything! I believe the asking price is fair for a guitar of this vintage in such great playable condition, especially given the full re-fret and bridge modification. Thanks for looking, check my other items. The item "Yamaha FG300 Red Label'Nippon Gakki' Acoustic Guitar, Made in Japan" is in sale since Thursday, March 25, 2021. This item is in the category "Musical Instruments\Guitars & Basses\Acoustic Guitars". The seller is "gasket68" and is located in Otley.
This item can be shipped to United Kingdom.
String Configuration: 6 String
Model: FG-300
Country/Region of Manufacture: Japan
Series: 300
Type: Acoustic Guitar
Fretboard Material: Rosewood
Number of Frets: 20
Body Colour: Red
Handedness: Right-Handed
Body Material: Jacaranda/Brazilian Rosewood
Brand: Yamaha
Body Type: Dreadnought